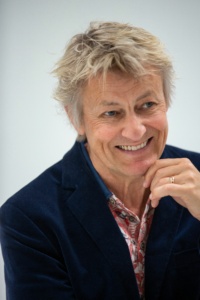 Lars Lerin was born and raised in Munkfors, Värmland. He studied at the school of Gerlesborg 1974-75 and at the Department of Fine Arts, Valand 1980-84. Lars Lerin is considered to be one of Scandinavia's leading artists in watercolor technique. He has had solo exhibitions and group exhibitions in art museums and galleries in Sweden, Denmark, Finland, France, the Faeroe Islands, Iceland, Germany, Norway and the United States. Lars Lerin's work is exhibited in County Councils and Municipalities in Sweden and Norway.
Lars Lerin is also a prolific author and has since his debute Utpost (1983), written and released more than fifty books. His book Naturlära was honored with the August Prize 2014, and in 2016 Lars Lerin was honored the Royal medal Litteris et Artibus for his great achievements as an artist and author. He and the TV-series Yours truly, was honored with not one, but two, Crystal-awards 2016, and the TV-show was seen by over 1.000.000 people.
Lars Lerin at Sandgrund
The permanent exhibition shows different themes from Lars Lerin's 30 years as an artist. Sandgrund contains watercolor paintings, oil paintings, graphic art, collages and photographs from many places in the world, for example Värmland, where Lars Lerin was born and currently lives, Lofoten which was Lars' home for several years during the 90's and a lot of work and reports from Lars' travels to the Arctic and Antarctica, Siberia, Iceland, Scotland, The Faeroe Islands, India, Egypt and Iran. Sandgrund is privileged to be able to show Lars Lerin's dark and pale colors in his work, and how they reflect the artist's own emotional and artistic life from the early 70's to present.
Sandgrund also has a room called The white room which is reserved for a guest exhibitors. Every year four different artists will show their work in The white room. Sandgrund was honored the Tourism Award 2016.

Words about Lars Lerin
"Watercolor technique is a powerful tool in the searching hands of artist Lars Lerin. He is a master of its potential and submits to its capricious temperament. The subjects for his works he finds in the places where he makes his home. He grew up in the Swedish province of Värmland, close to the thick forests and where the long summer nights and the darkness of winter are a part of existence. On the Norwegian Lofoten Islands he discovered the sea and horizon. He has a feeling for the grandeur of natural scenery and sympathy for the tough conditions under which people work there. In his paintings he returns time and again to how people live and work in home and factory. Memories, words, sentences and fragments of images recur frequently in his paintings; together they form a puzzle of memories which capture impressions of life and warmth such as perhaps no longer exist. It is a nostalgic, existential longing common to us all."
Bera Nordal, Nordic Water Color Museum