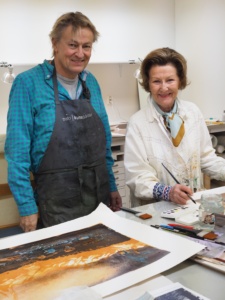 H.M. Queen Sonja studied art in her youth, but that interest was dormant for a long time. She has studied watercolor and graphics under the direction of the two well-known Norwegian artists Kjell Nupen and Ørnulf Opdahl.
The Queen's first time exhibiting in public was in 2011, an exhibition that took place at Dunkers Kulturhus in Helsingborg in Sweden, on the occasion of Atelje Larsen's exhibition "Under great pressure".
In addition to paper-based art, the Queen has also worked with ceramics in the form of dishes, pots and wall decorations, since her first public exhibition, she has participated in several solo- and group exhibitions around the world. Today she is a respected graphic artist. She is also a great collector of art that also includes works by Lars Lerin. The two have previously exhibited at the same time at Galleri Lofoten in Henningsvaer, Norway.
Lars Lerin and the Queen have for some time worked together with copper graphics for the benefit of Queen Sonja's Art Foundation. The foundation works to spread awareness of graphic art in print, and annually presents three awards;  H.M. Queen Sonja's Graphic Print Award, the Inspiration Award and the Lifetime Achievement Award.
We are proud to present a guest exhibition by H.M. Queen Sonja, who is exhibiting around 30 works during the period 23 June – 21 August 2022. All works are for sale for the benefit of the Queen's Art Foundation.
Opening for the public kicks off on June 23 at 13.00 in the presence of Lars Lerin and Manoel Marques Lerin, and will be available until August 21st.